Notes:
This jazz LP was issued in 1957 in France. There's a US release too (Epic LN 3376), but there doesn't seem to be a Dutch release (or other European releases).


Discogs currently lists this LP as from 1956, which is unlikely to be true. The code on the bottom of the back cover could clarify things, but is mentioned nor shown in the Discogs entry. My copy has code 57, which indicates a May (5) 1957 (7) release. The US release is definitely from 1957 and since the recordings were made in October and November 1956, 1957 is probably also correct for the French issue, so I doubt if a 1956 release exists.


Kenny Clarke is a US artist who plays with mainly European (French) artists on this album. Most songs are originally written by famous US jazz artists, but they were arranged by André Hodier, thus resulting in the somewhat strange title "Kenny Clarke's Sextet Plays André Hodeir".


About André Hodeir (22 January 1921 – 1 November 2011):
Hodeir was born in Paris and trained as a classical violinist and composer. He studied at the Conservatoire de Paris, where he was taught by Olivier Messiaen and won first prizes in fugue, harmony, and music history. While pursuing these studies he discovered jazz and various music forms besides jazz and classical. He recorded on violin under the pseudonym "Claude Laurence". As a critic he expressed disgust with nearly all early jazz ("Jazz: Its Evolution and Essence"; 1957).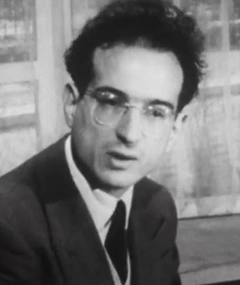 In 1954 he was a founder and director of Jazz Groupe de Paris, which included Bobby Jaspar, Pierre Michelot and Nat Peck. In 1957, at the invitation of Ozzie Cadena of Savoy Records, he recorded an album of his compositions with Donald Byrd, Idrees Sulieman, Frank Rehak, Hal McKusick, Eddie Costa, George Duvivier, and Annie Ross.
In addition to two books of essays (1954 and 1956), he wrote film scores, including "Le Palais Idéal" by Ado Kyrou for the film "Chutes de pierres, danger de mort" by Michel Fano, and Brigitte Bardot's "Une Parisienne". He founded an orchestra during the sixties and composed a work based on the Anna Livia Plurabelle story from the novel "Finnegans Wake" by James Joyce.
Source: Wikipedia