In 1950 the N.V. Philips Phonografische Industrie (PPI) was established. This Dutch company combined all necessary musical activities (recording, manufacturing and distribution) and became an important player in the record industry, even more when it started to cooperate with the US Columbia label (with the first records from this deal being released in 1953). This cooperation lasted until 1961 when Columbia started to release their records outside North America under the name of CBS Records. The Minigroove logo referred to the record pressing technique Philips used (comparable to the microgroove name, more commonly used by other record companies), as opposed to the way 78rpm records were manufactured. The logo seems to have been used until around 1961-62. Possibly Philips quit using it after the break up with Columbia and/or when it started a joint venture with Deutsche Grammophon Gesellschaft (1962). For the record, Philips in the UK worked with Columbia until 1964 and the Minigroove logo can be found as late as 1964 on German pressings (others too?); it was for instance used on the labels of the 1964 LP "Jazz Workshop Concert" (mono LP P 48 095 L and stereo LP 840 475 PY).
Philips established offices in many European countries (France, England, Germany, Denmark, Sweden, Norway, Spain, Italy, …) and even abroad (Asia, Africa, South America). Records were often pressed in these other countries but in other cases they were pressed in the Netherlands and then exported to their destinations. An example of this are the albums pressed in the Netherlands, which were meant for the German market. "Made in Holland" is shown on the labels but almost all other text is in the German language. Germany had their own presses as well. Some of these said 'made in Germany' on the labels, some had German text around the perimeter of the labels (with no mention of 'made in…') and sometimes 'made in Germany' is printed in the dead wax. England and France used numbering systems of their own, maybe some other countries did so too, while others followed the Dutch numbering exclusively.
The Philips label exists since 1942 when the 'Hollandsche Decca Distributie' (Dutch Decca Distribution) was acquired. This section of the Philips company, releasing 78rpm records, lasted until 1956. Some titles appeared both on Philips Minigroove and on these regular 78rpm issues. Early catalogues list both Philips (Minigroove and non-Minigroove) and Decca releases.
Philips used various numbering systems and I haven't quite figured out when which numbering systems were used and why. Discogs shows the following (incomplete) interpretations of the characters used in the numbering systems:
E stands for 7″ 45 rpm EP mono or stereo
F stands for 7″ 45 rpm mono
L stands for 12″ 33 1/3 rpm mono
M stands for 12″ EP 45 rpm stereo
R stands for 10″ 33 1/3 rpm mono
T stands for 7″ 33 1/3 rpm mono
W stands for 7″ 45 rpm stereo
Y stands for 12″ stereo (regardless the speed)
On the Philips Minigroove label were released: small (7 inch) 78rpm records, normal (45rpm) 7 inch singles and EP's, 10 inch and 12 inch albums.
78rpm records
The 78rpm records in the 7 inch format were the first products by the Philips Phonografische Industrie and were released c. 1951-52. They were not a big success, mainly because of the competition with the very succesful 45rpm single which was introduced by RCA in 1949. Philips' miniature 78rpm records were made of vinyl (not shellac) and they were housed in a general company sleeve with a big hole to show the labels.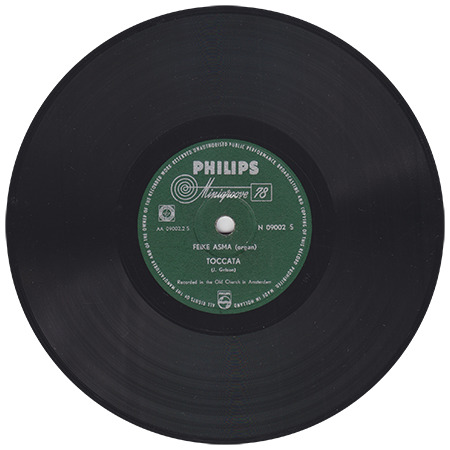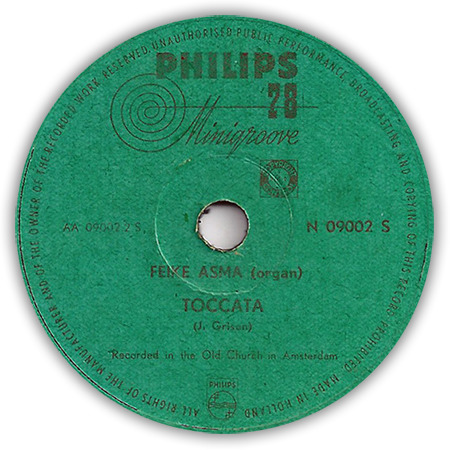 7 inch singles & EP's
Philips started issuing regular 7 inch records (singles and EP's) from 1955 onwards.
Early 7 inch singles and EP's probably came in general company sleeves, soon to be followed by non-laminated covers. (Most) later EP issues and reissues were housed in laminated covers, often showing the text 'All Philips Records are high fidelity records!' on the back cover with small black rounds behind the 'hi' of 'high' and the 'fi' of 'fidelity'. This text was probably introduced in the second half of the 1950's and was used longer than the Minigroove logo. It should be noted that the lamination often came loose and could be peeled off without leaving much traces if any at all.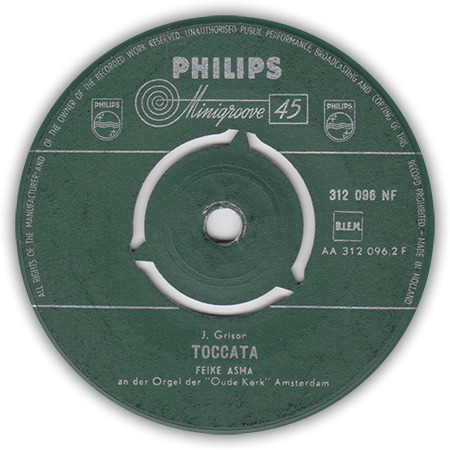 10 inch albums
With the same size as (regular) 78rpm records but featuring much more music, the 10 inch album was a popular format during the 1950's and early 1960's. Philips released many of them and also re-released many titles. What's been said about the 7 inch records applies more or less for Philips' 10 inch albums as well. Early 10 inch albums came in non-laminated covers, first with standard designs (an upgrade from the general company sleeves used for early 7 inch releases), then with designs which were completely made for the release itself (though standard designs were still used for series). (Most) later issues and reissues were housed in laminated covers, often showing the text 'All Philips Records are high fidelity records!' on the back cover with small black rounds behind the 'hi' of 'high' and the 'fi' of 'fidelity'. This text was probably introduced in the second half of the 1950's and was used longer than the Minigroove logo. In some cases, the lamination was peeled off the covers without leaving much traces, so that can be confusing.
The first 10 and 12 inch albums were released in 1952, quickly gaining momentum in 1953, after the releasing deal Philips made with Columbia Records in the USA.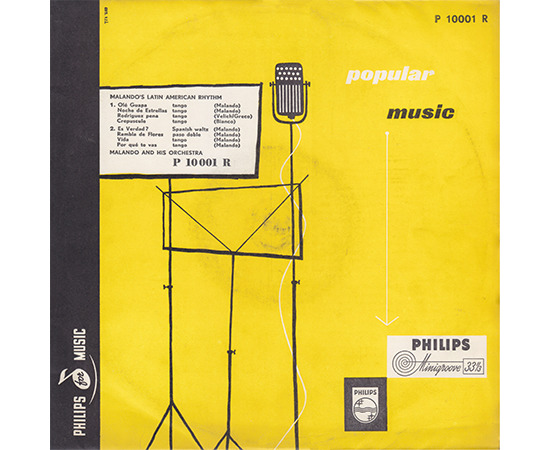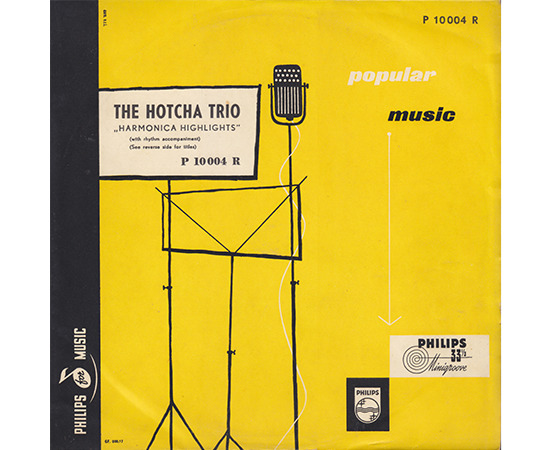 12 inch albums (LP's)
What has been said about 10 inch albums applies for 12 inch albums as well, except that almost all 12 inch albums came in laminated covers. A few 12 inch albums were released in heavy cardboard and gatefold sleeves and sometimes booklets were attached at the inside of the gatefold cover.
Buying albums was a new phenomenon in the 1950's and slowly grew into a substantial mania in the 1960's and 1970's. Philips played an important role and it's fascinationg to see how things developed in the 1950's. In 1956 an interesting commercial boost was given with the Favourites Series; most classical music with full color photographs by Paul Huf on the front cover, all presenting UK model Ann Pickford. The albums in this series were relatively cheap and although there was much controversy about it, they were a big success. The record industry became aware of the positive effects of attractive covers and cover art became an extremely important part of their marketing strategies.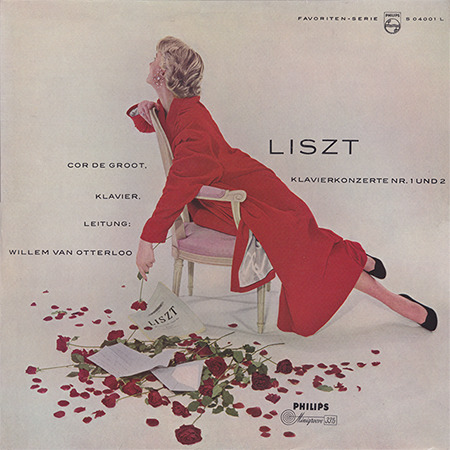 Philips reissued several titles (both 10 inch and 12 inch albums), sometimes even more than once. Most original pressings have the Minigroove logo on both the cover and the labels, reissues could have the same cover including the Minigroove logo but the label design is from the early 1960's and then on later reissues the Minigroove logo was dropped completely. For an example, see these three different pressings of Philips LP A 00440 L. There are also covers which do not show the Minigroove logo, but it's still on the labels. This could have been forgotten, sometimes deliberately omitted, or these pressings are from the transition period to the post-Minigroove years.