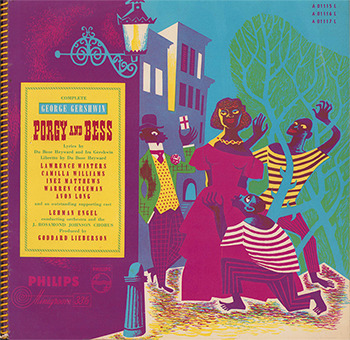 The first more or less complete recorded version of "Porgy And Bess" appeared on Columbia in 1951. As a result of the cooperation between Philips and Columbia the recordings were released in Europe on the Philips label in 1955 (probably). I acquired a copy of this 3LP album recently.
Gershwin's opera was an important work of art and the following text (from Wikipedia) explains (partly) why.
Porgy and Bess is an English-language opera by the American composer George Gershwin, with a libretto written by author DuBose Heyward and lyricist Ira Gershwin. It was adapted from Dorothy Heyward and DuBose Heyward's play Porgy, itself an adaptation of DuBose Heyward's 1925 novel of the same name.
Porgy and Bess was first performed in Boston on September 30, 1935, before it moved to Broadway in New York City. It featured a cast of classically trained African-American singers—a daring artistic choice at the time. After an initially unpopular public reception, a 1976 Houston Grand Opera production gained it new popularity, and it is now one of the best-known and most frequently performed operas.
The libretto of Porgy and Bess tells the story of Porgy, a disabled black street-beggar living in the slums of Charleston. It deals with his attempts to rescue Bess from the clutches of Crown, her violent and possessive lover, and Sportin' Life, her drug dealer. The opera plot generally follows the stage play.
In the years following Gershwin's death, Porgy and Bess was adapted for smaller scale performances. It was adapted as a film in 1959. Some of the songs in the opera, such as "Summertime", became popular and are frequently recorded.
About the recordings:
Columbia recorded a 3 LP album (1951) of what was then the standard performing version of Porgy and Bess – the most complete recording made of the opera up to that time. It was billed as a "complete" version, but was complete only insofar as that was the way the work was usually performed then (actually, nearly an hour was cut from the opera.) Because album producer Goddard Lieberson was eager to bring as much of Porgy and Bess as he felt was practical on records at the time, the recording featured more of Gershwin's original recitatives and orchestrations than had ever been heard before. The recording was conducted by Lehman Engel, and starred Lawrence Winters and Camilla Williams, both from the New York City Opera. Several singers who had been associated with the original 1935 production and the 1942 revival of Porgy and Bess were finally given a chance to record their roles more or less complete. The album was highly acclaimed as a giant step in recorded opera in its time. The album is not sung in as directly "operatic" a style as later versions, treading a fine line between opera and musical theatre.
The complete Wikipedia text can be read here.
Porgy and Bess albums and singles on this website:
Philips A 01115-7 L (the 'complete' version on 3 LP's)
Philips S 06600 R (10 inch with highlights from the 3LP version; two versions are shown)
Philips 409 566 NE (an EP release featuring four tracks from the 3LP version)
Philips 313 750 RF (a 7 inch single featuring "Summertime" and "I Got Plenty O' Nuttin'" from the 1959 film)
Philips R 07522 L (the 12 inch motion picture production of "Porgy And Bess")