Many buyers, like myself, order quite a few albums online these days. I used to buy new treasures from Europe, the United States, Japan and sometimes Australia, but tend to buy more from the EU these days because of the increasing additional costs involved. A continuing concern when ordering online is the way sellers pack the albums and this post lists my experiences and recommendations. Since I'm a buyer and a seller, both perspectives are used here interchangeably in order to get the best picture of what you need to know about packing albums.
General warning: several online shops (at least Bol.com and Amazon.nl) now use thin envelopes and paper sacks to ship their albums in. It's totally unacceptable! At the end of this post I give more details on the online shops I've been buying from lately.

The most common LP box in Europe…
… seems to be this one, or something similar: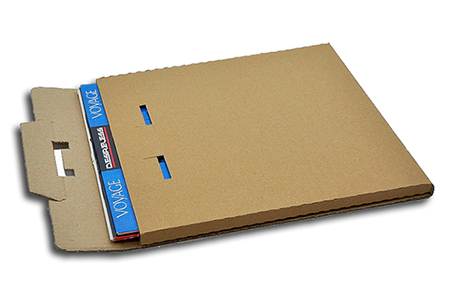 And really, this is nothing but a piece of crap. It's relatively cheap, but the risks are high when using this one. The cardboard is of inferior quality (it easily bends) and the box is not oversized, so one bump (nothing exceptional in the postal world) and the album cover(s) got damaged, and sometimes even badly. You can still use this box, but you'll have to make it a good one yourself. See "How inferior boxes can still be used" below.
Note: suppliers like Who's Your Daddy (what's in a name?) now offer these boxes in two qualities. The differences are rather minimal and even the better one of the two should not be used without modifications.

A better alternative…
… is something like this: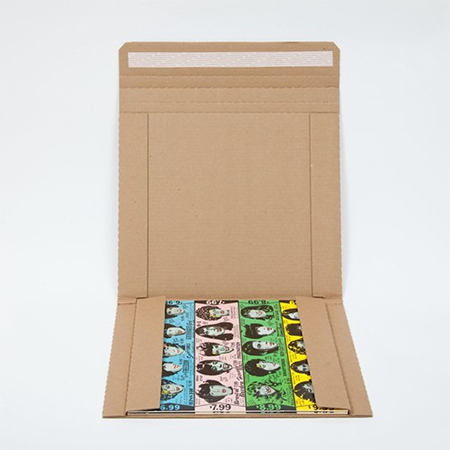 This box is over-sized, which makes a huge difference. Shown above is just an example and many variations exist, some better than others. The good thing is that when the box bumps on the ground, usually on one of the corners, the LP cover(s) probably remain unaffected. Many of these mailers are still made of inferior quality cardboard, comparable to the first box discussed, so even relatively light pressure can cause bends in the cover. And of course: the risk on corner damage increases again with inferior cardboard quality.
The box that is still very commonly used in the US in this one by Bags Unlimited (also made by other brands):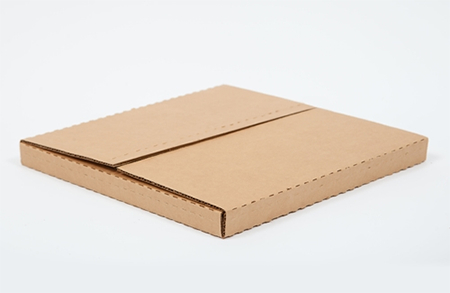 The cardboard is way better than what's commonly used in Europe, but it's not oversized. Bags Unlimited produces oversized boxes as well, which are fine but non of their products are very attractive to European sellers, as they are very expensive, especially with all additional costs (shipping and taxes) included.

How inferior boxes can still be used
The good news is that inferior boxes can still be used. With a little more time and no extra money you can accomplish a lot. What you can do is strengthening the mailing box on the outside by f.i. using one of those solid supermarket boxes, like this one: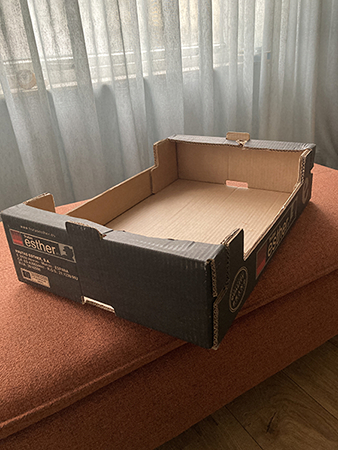 I cut a box sized square from it, but slightly oversized, say 14×14 inch (where the box is 13×13 inch):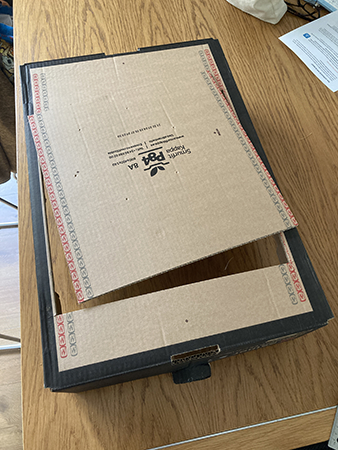 I tape it in place on the outside of the mailing box: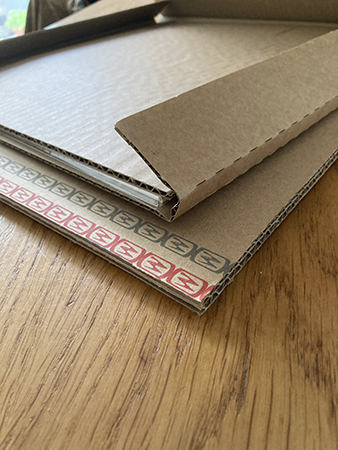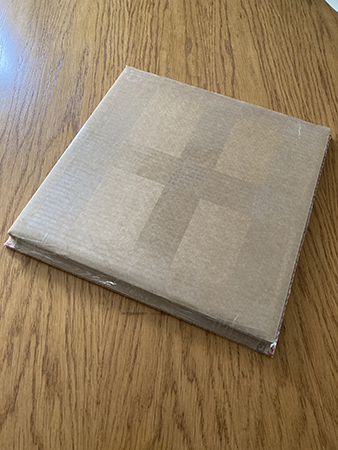 This way, an inferior LP mailing box becomes very solid and the oversized layer protects the album(s) from corner damage. Note that the LP is placed as close as possible to the oversized layer.

What's more to it?
Another detail of importance is what happens inside of the box. Here's what I got in lately: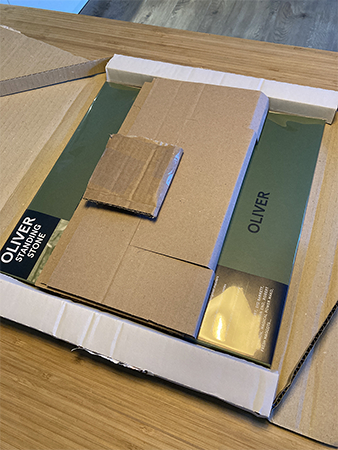 The photo shows an oversized box of average quality, acceptable but definitely not risk-free. What's worse here: the space left in the box is filled with folded pieces of cardboard covering the LP for c. 60%, which means 40% of potential danger. What happened is that there was pressure given from the outside (on the box of average quality…) and the LP was bended around the pieces of cardboard fillers. Very unprofessional – and this was sent to me by an otherwise appreciated record shop (Soundohm – see below). What they should have done is using LP sized fillers, two or three on each side of the record (this depends on the size of the box – the one shown in the photo can hold c. 4-5 albums.) This reduces the effects of pressure dramatically – again: good quality cardboard fillers work best, of course.
Some people use bubble wrap which is no good either, except if you double box records (f.i. 78rpm records) – bubble wrap, air cushions, etc., can then be used with good effect to fill the space between the two boxes. It should not be used to replace a cardboard filler, used as described above.
Important in all cases is that the records do not move inside of the box, but then also: it shouldn't be packed too tight either. LP's can best be removed from their jackets, which is something that seldom happens with new records, though you can ask the seller if he will do that for you. An LP that moves inside of its cover can cause seam splits. The tight seal used for most new records does give some protection against splitting, but looser plastic bags do not, of course. A plastic bag or seal also helps against humidity – it sometimes happens that packages are left in the rain for some time, during transport.

The shops that I bought from in the recent past
Here are some of my experiences with shops I bought from in the recent past. Individual sellers are not listed; their reputation can best be checked on the websites they use to sell their music on (eBay, Discogs, etc.)
Bol.com
Bol.com is a large Dutch webshop, selling a broad variety of products, including music. It's comparable to Amazon. Vendors like Bol and Amazon can sometimes be interesting to buy from because of their offers and bargains. It's definitely not true that they're always the cheapest, but it was (yes, was) worth checking before making a purchase. But be warned: my latest experiences with both Bol and Amazon were very negative. Bol is now using thin envelopes to send their records in. They do not even use fillers… I told them recently that they need to improve on their packaging dramatically and that I won't buy from them again before they do. Earlier, Bol packed their albums like JPC does (see below). Save yourself some major disappointments and don't buy LP's from Bol.com. And also not from Amazon – read on.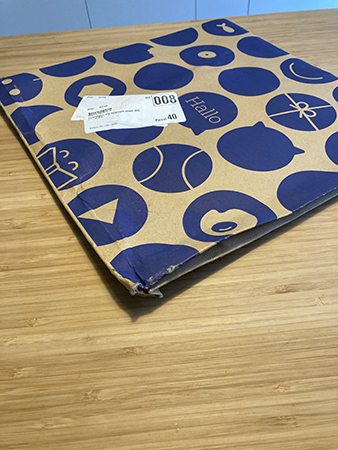 Amazon.com/Amazon.nl
My experiences with Amazon were positive until recently, as my last order was packed in a paper bag, with nothing else to protect the albums. Like Bol, Amazon is driving me crazy over this. What the f*ck is happening? Is cardboard or free shipping getting too expensive? Where's the information?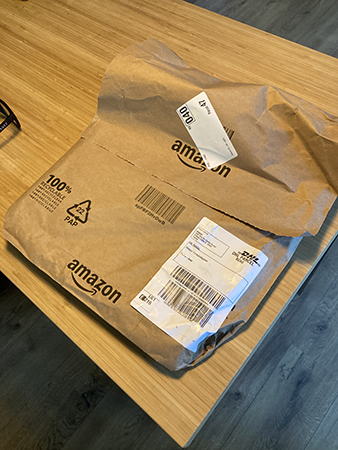 JPC.de
JPC is a German webshop. It's still one of my favourite webshops and most of my new records are ordered from them. They pack well (using good quality quality boxes, oversized et al,) though very sometimes their albums have bends and creases before they're being packed and sent. And of course, a lot can happen to an album before it starts its final journey to the customer. The good thing is that the JPC customer service is excellent and you can always return an album you're unsatisfied with for a full refund or a replacement copy. In both cases the return shipping costs are covered.
Soundohm.com
An interesting webshop from Italy, selling mostly experimental and avant-garde music, much of which is not available from other websites mentioned here. Unlike most other webshops discussed here, Soundohm really has a beautiful webshop, providing adequate information and sound clips. I'm not sure when they started, but probably not too long ago and they are still struggling to find the optimal way to send albums. Soundohm uses oversized boxes, but not made of the best quality cardboard. I sent them several messages about it after receiving albums with corner dings, etc. The picture shown above (under "What's more to it") also concerns an album, sent to me by Soundohm. Italy is not well-known for any record care within the postal system, so that may be something to take in consideration as well. I start being a little hesitant to order from them again.
Mania (platomania.nl)
The webshop of the Plato/Concerto record shops in the Netherlands. Concerto in Amsterdam is one of my favourite record shops to visit, but I never bought too much from them online. The few experiences were positive. They pack pretty well – the correct way and using oversized packages with average cardboard quality. The last album I bought from them (Ornette Coleman's "Genesis Of Genesis: The Contemporary albums") was even very well packed, with solid cardboard. Maybe they pack more expensive items better than average priced items?
VMP (vinylmeplease.com)
"Vinyl Me, Please" is an American record club, but there's no need to be a member in order to buy from them. Members do have certain privileges of course. It's currently the only US webshop I'm buying from, which has to do with the low shipping costs and sometimes attractive offers. It's a matter of waiting for the right moment. They pack their albums reasonably well; oversized packages with cardboard of average quality. I had no problems except for some very tiny corner dings on a few of the albums I bought from them. VMP has a good looking website too, like the website of Soundohm. All others could use some major improvements!
It's been a few years now, but I still like to mention Music Matters, an audiophile Blue Note reissue label, as their packing appears to be unsurpassed.

Also check this post about cleaning records.