"The Norman Luboff Choir was one of the leading choral groups of the 1950s, 60s and 70s. They came to prominence through their participation in the very successful Christmas broadcasts with Bing Crosby which ran from 1955 to 1962. History was made in 1956 when Luboff and his choir recorded with Harry Belafonte on "Calypso", the first album to sell one million copies. The choral group toured yearly from 1963 to 1987, and recorded more than 75 albums. The holiday albums Songs of Christmas (1956) and Christmas with the Norman Luboff Choir (1964) were perennial bestsellers for years". (from Wikipedia)
Philips released many sides by this group, all leased from Columbia Records. The songs on this EP were first released on Columbia LP CL 657 in 1955.
I listened to this EP and I didn't like it. I'm not such a choral fan and I guess it's also because it's a white group; they can sing but it doesn't swing… But it features a cool picture sleeve.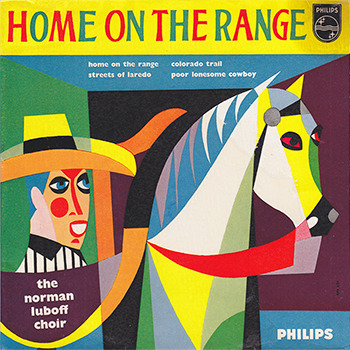 Click on the image above to see all images for this record.