This 10inch record features tangos, waltzes and pop songs, including a cover version of Les Paul and Mary Ford's "Mister Sandman" (written by Pat Ballard). The record gives less to enjoy than the title suggests. The cover art is a bit silly too, though it has some naïve charm at the same time (the name of the artist is not given, but it could be Cornelius van Velsen).
The Continental Juke Box series appears to feature five volumes; the first issues came in the 10inch format (No. 1, 2 and possibly 3), the others in the 12inch format.
See also "Continental Juke Box No. 4" (with a more interesting cover design, made by a David Houthuyse as David·H).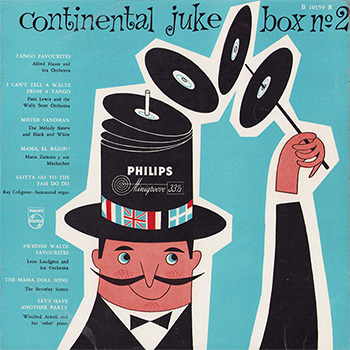 Click on the image above to see all images for this record.